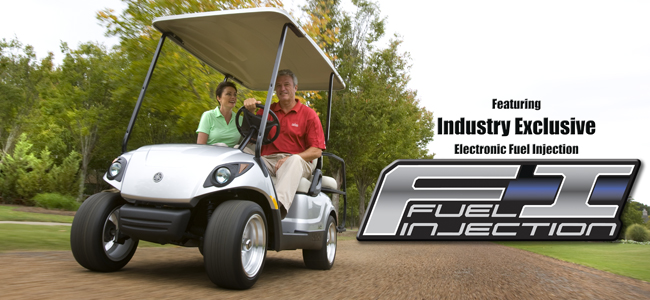 JUST RELEASED -
Yamaha, leaders in the golf car market have just released the industries first
FUEL INJECTED PETROL CAR.
Just released into the market.The first ever fuel Injected petrol golf cart.

Again Yamaha leads the way with this 25% more fuel efficient cart. We are the only golf cart manufacturer that builds our own engines. 357cc producing 11.4 hp it performes up to 15% better than the competitions. Quieter, vibration free and has LOW EMISSIONS.

20% lighter body weight, more leg room, higher sun roof are just some of the features.

Lights are standard fittings and carts are available in a variety of colours.

Transaxle with internal disc braking, New larger dash, fully independent front suspension, full wraparound protection system, largest most comfortable contoured seats and largest bag well.

"here is NO COMPARISON! We began working on an all new golf car several years.We set out to put an emphasis on comfort, service, and return on investment, but we looked at everything. And the result has been engineered, tested and manufactured as only Yamaha can do."
You need to see the 57 Reasons that the Yamaha "Drive" is the top golf car on the market.
Please follow the Link below or click here.